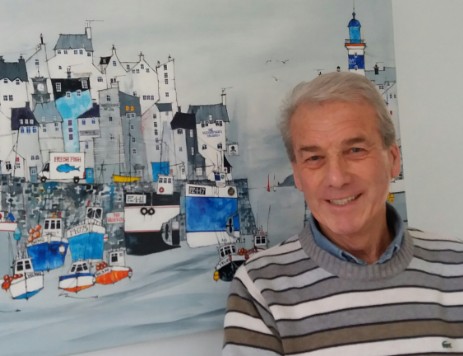 Ron lives in the village of Netley Abbey which lies on the edge of Southampton Water. He has always lived near the sea and grew up within the sights and sounds of a busy port, which has undoubtedly had an influence on his painting. Ron also loves to spend time on the coast, particularly in Devon and Cornwall sketching and gathering ideas for his work.
Although he has always had an interest in visual art, Ron has had no formal tuition apart from his apprentice training as an engineering draughtsman. He started painting in the mid 1990's, and has since developed a unique style which has proved popular at local exhibitions and with the buying public.
His preferred subjects have a nautical theme mostly based around Cornish coastal villages with their traditional fishing vessels and cottages that tumble down into the harbour. Seascapes, townscapes and architectural subjects also interest him. His preferred medium is watercolour pen and wash as well as acrylics and mixed media with collage. Ron is self taught and believes there are no rules within which he must work. The resultant paintings are therefore fresh, vibrant, exciting and easy on the eye. He believes that if his work puts a smile on the viewers face, then the painting has succeeded
His quirky harbour scene paintings are ideal gifts as they can be personalised with calligraphy to make references to the intended recipient. This is done by including boat names, adding names to buildings that are relevant as well as personalising boat registration numbers as birth dates etc. Ron is happy to accept commissions to create unique gifts based on this idea.
His first solo exhibition was Hampshire Artists Open Studios 2005. Since then he has participated in a number of local events including the "Best of Hampshire Artists", as well as exhibiting at the Salisbury Playhouse Gallery, the Fisherton Mill Gallery and the Eastleigh Museum. He also exhibits at his local art groups' exhibitions. In April 2016 he was featured in an article in The Hampshire Life magazine.